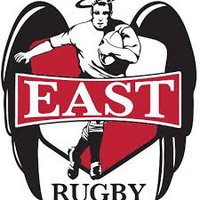 V
Old School Finals
It will be a match for "The Old Boot", which fixtures between the Angels and the Jesuit are called from time out of memory. Back in the day when the clubs were piloted by two legendary and grizzled veterans, Bill Baer for East and Dr. Dan O'Leary for the Jesuit, this was what the contest was called, and its trophy was, in fact, a bronzed boot of O'Leary's that he wore when playing in the front row at hooker for a number of top flight clubs.
Regis won the opening semi by making the gain line, securing possession at breakdown and maintaining the pill to keep Palmer High Terrors rear-legged and unsteady in defense. And it did go that route for the Raiders as they grounded thrice in the initial half, while their adversary struggled to locate the handle, especially when they ventured out wide to spread the Jesuit defense. Thus Regis held a 19-nil lead at referee Kurt Weaver's halftime signal.
Weaver minds the Jesuit scrum-put
Second stanza, different song entirely as Palmer scored a try three minutes into the half, then again at the 41-minute mark, making the scoreline 19-10 with the Regis defense looking for answers to questions asked of the force and physicality of Terrors forwards in the near channels from breakdown.
Palmer would dot their third try two minutes from injury time, yet no conversion meant they trailed by four, 15-19, heading towards injury time. They'd need a try and the XV from Colorado Springs nearly got it, too, but turnover at breakdown by Regis as Palmer crossed into Jesuit territory enabled the Regis flyhalf to clear to touch and Weaver's last blast meant the record of 19-15 for Regis.
With the breeze picking up and quartering out of the north and east diagonally crossfield, Denver East appeared ill-functioning and at sixes and sevens while Monarch, the tournament's number one seed and reigning State Premier Division Champion, grounded a brace of trys and knocked through a penalty for good measure running rampant to a 15-0 advantage by minute 17. But the last five minutes of the first half were all East as they dotted twice, converting each, and it was 15-14 as referee Chris Brewer signaled lads to locker for hydration and instruction.
Brewer monitors Neureiter's service
Monarch's heavy hitting strategies opened up the Angels defense early in the first half, but Denver sorted its defense and were able to employ the tact and tenacity of scrumhalf sparkplug, Luke Neureiter to dot three times in the second stanza, all converted, and Angels had ripped open a 35-15 advantage with two thirds of the last half gone.
Monarch were able to try once again, but East replied with a brace for final tallies of 47 for Denver East and 20 For Monarch.
Championship next RugbyDay, Saturday May 19, at Don Breese Stadium at Lewis Palmer High School in Colorado Springs.